Do you all find that sometimes you run out of places to eat in a shopping area? Sg Wang and Low Yat is one of the places that are suffering
from this. Well for the cat family any way. It is either Old town kopi tiam at Low Yat or Food Court in lot 10 or the Other kopi tiam in Low Yat etc... argh.. not much choice. Neko Otousan is not a big fan of "let's try something different sometimes" so... a bit susah loh..
One weekend- we didnt have neko otousan around- so it was just mom, me and lil bro... so we decided to "explore".. Hot mama was what i saw.... You know.. that orangey
shop at level 4 of Sg wang? ... i had no idea what they really served- just saw some bloggers talking about it...

Since we were pretty early, the place was pretty quite. Just our table..... my mom was totally suspicious.... she thinks it is a measure of restaurant ( more people, business better, food good ).... well -you never know if you don't try- that's my motto.
Seems like this restaurant is a combination of local and Vietnamese food. So
the menu had this pretty large variety of food to choose from.

My very radical mother ordered .... Nasi Lemak Pyramid that day...Looking at the pictures- you know why it is called that.... the food comes in nicely separated stacks. See my mother below busy attacking her rice?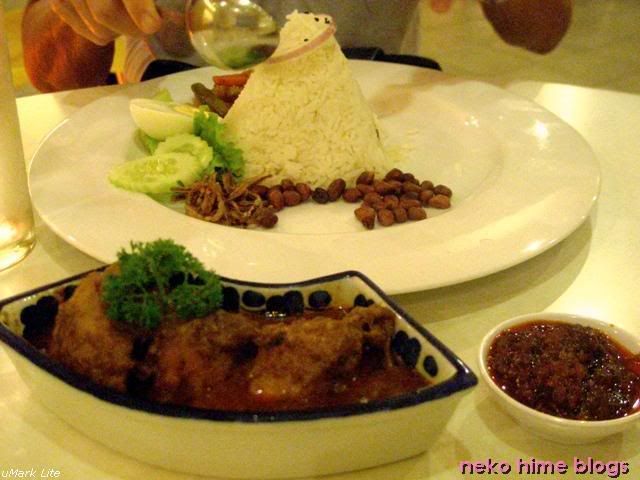 Not satisfied- i move a bowl of curry chicken to my side to take photos. I took some of her sauce as well for my rice *hehe* The chicken was tasty and tender - good choice of food.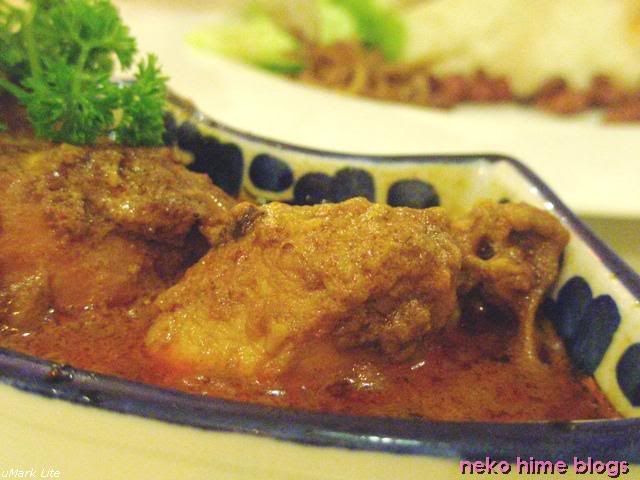 Now, i forgot to take a picture of what lil bro ate- but it was noodles done the same way as in little Vietnam. He said it was "ok-lah"

I ordered Beef & Carrot stew for my lunch. Not sure why i did, probably because i tot it will taste like the chinese beef stew ( lots of lobak and other stuff ). It's not too bad. I like the carrots and the beef was tender. But i find this a bit sweet for a stew. My preference sways to towards the chinese version. :)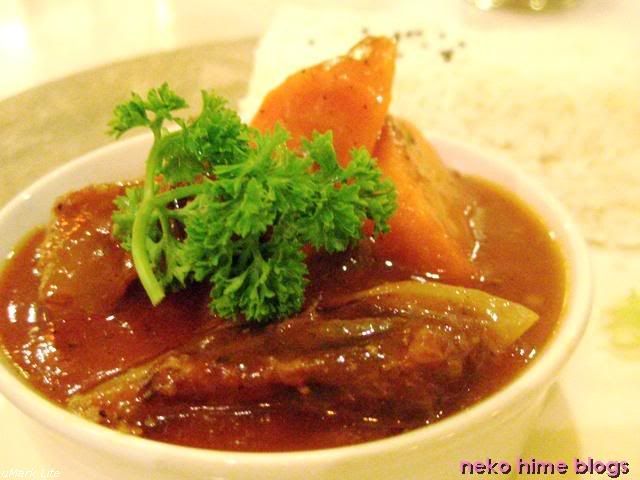 No sooner our food came, the people started to flood in. There were the young hot mamas, tourist ( suprisingly very popular with them ) students and the usual hang out crowds of Sg Wang. For those who like bigger meals- they offer set lunches complete with drinks, rice, soup and dessert.

Overall i would say this is not so bad. At least i have alternative to Old Town Kopitiam. I hope my dad doesn't read my blog :P Plus the price - was less than RM50 for the 3 of us. Provided you order just water. Worthy of a second visit.

Hot Mama is located @:

R
estaurant
H
ot
M
ama
E-50, 4th Floor, Sungei Wang Plaza
Jalan Sultan Ismail
55100 Kuala Lumpur
Tel: 03- 2148 1366

Btw: birthday shout out to my friend YY :) O-tanjyoubi o-medetou :)