I have to admit to all, since coming back from Europe, i have been a bit chubbier. :) Besides the sleeping, i caught up on the eating. In KL, aside f
rom the basic meals, i seld
om snack and i lose weight extremely fast in KL, due to exercise and stress from work
( this is
not a sanctioned method of weight loss *cackles*).
However when on tour in Europe, i got a chance to relax more and enjo
y the finer things in life. The tour provides you the standard meals daily but because we walk extremely a lot, hunger pangs are always around the corner. The other fact is, is they serve you chinese food, i get hungrier faster. I can't fight for food faster than o
ther people.
My dad and i thought the trip to europe will be a good time to sample their litt
le cafes littered around all the towns. We were right. If you want to sample the best c
offees a
nd tasty little cakes, Europe has some of the best places to offer.

Trieste, Italy


It was good that one of the small stops we had was to Trieste, Italy. Home of auth
entic coffee. Now, Trieste is not a big place in italy and it faces the Adriatic Sea, and since
it is very close to Slovenia, the people speak Slovenian as well as Italian.
Wet, rainy days in Italy
But.. it still has the italian field in that place, ok... i am happy to jus
t step foot to

part

of Italy.

I was truly soaked in Trieste, the heavens poured that day. Deciding that i had
not much place to walk around and i hate shopping in wet weather, i asked Dad to stop i
n this cosy ( i.e very warm ) cafe to rest everyone's tired feet and.. use the toilet. Don't ask
me why, but everyone in the trip ( except yours truly ) always seems obsessed in finding a place to wee. Not 1 hour after the last stop, everyone is rushing for another round... sigh.

We pick one cosy little place to stop by, and i am impressed by the soft lighting and definitely the warm heater inside..
Europeans are not used to large crowds trooping into their place. The shop seems to be built for 2 person per table, there were 6 enough. Fortunately they had 1 table for six of us and we squeezed in there
.

Since it was raining, most of us ordered Espresso. One small little cup of the
brew is enough to wake you up. Not sure about the warming up though, not enough if
you are relying on the drink. And its 2 euros for this. (1 EURO - RM5 ... go figure ).
I like the str
ong flavor though... Mom wanted double shot... we stared at her....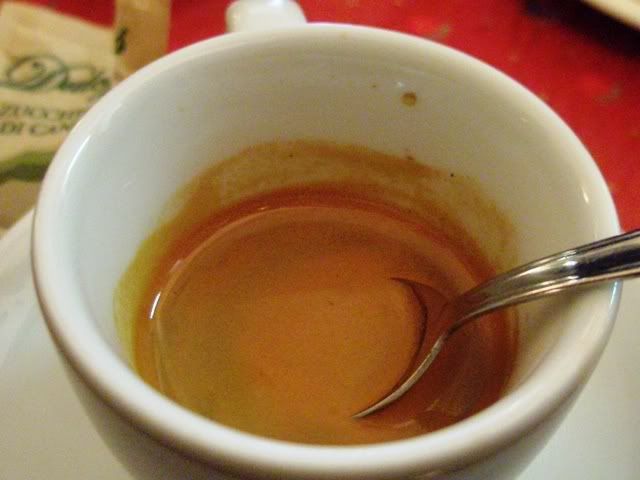 I was hungry, so dad ordered this large bikkie and a cake for the rest of us. Not sure what it was though, tasted ok. My aunty was a big fan of this though...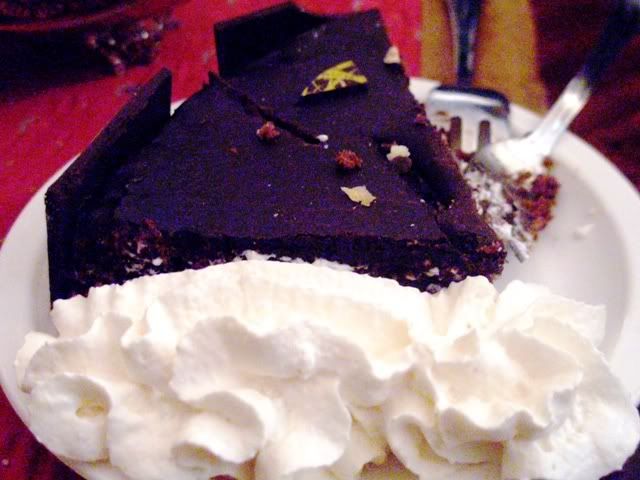 I wanted this large biscuit :), which has marmalade inside. I manage to cut this into 6 pieces for everyone to share.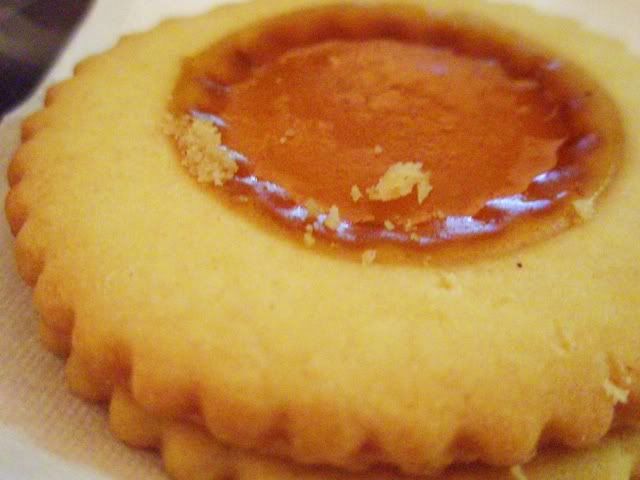 All in all, the bill came to 17 Euro for the number of espressos we had, plus 1 of each of the above desserts..

I went to other coffee shops in prague, budapest etc but had only coffee, only places where i specially ordered food, i took pictures. Which brings me to my next place, Cracow, Poland.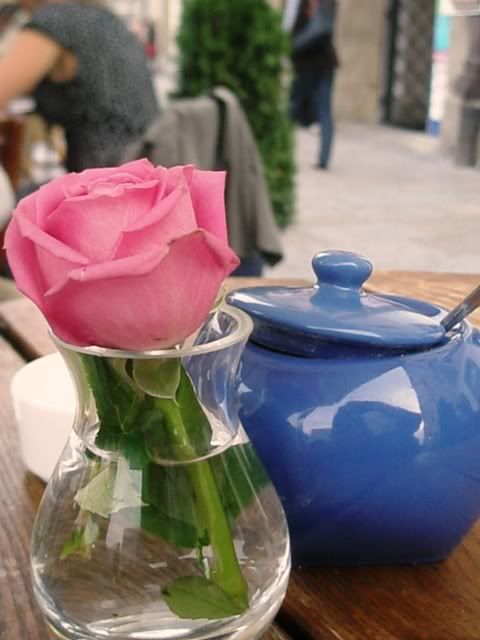 Cracow, Poland ( pronounced Kra-kow )


This is the second city in Poland and the original capital before it move
d to Warsaw. It's old town is littered with little cafes. I love the table settings they have at their outdoor cafes... so sweet and simple! The only annoying thing is, though part of EU, poland still uses it's own currency of kroner. So each time i buy something, i had to quickly change some money.


The Cafe i went to, see the lady and her dog carrier.


Now, i had no sense of adventure, so i stuck to my Cafe Latte- not very pretty, but check out the Black Forest cake we ordered as a snack. This dessert was quite popular in the 70's and 80's but i seldom see this now as other dessert flavors seem to be more in favor now. So, we quickly ordered this for old time's sake. This is a good cake. Once the cake was served, i could smell it :) The chocolate cake was soft and not filling and goes well with cherry liquer syrup and cream. My mom, the anti-fat crusader, was surprisingly not on her crusade today and gleefully dug in to this. She ordered a very refreshing drink which i forgot to take a picture of, which was mint and apple. Woke me up immediately when i took a sip.
The sense of adventure went to my dad and i was surprised he ordered a Vienna coffee. Guess he didn't know the large splot of cream that comes with it. But putting that aside, he truly enjoyed his coffee.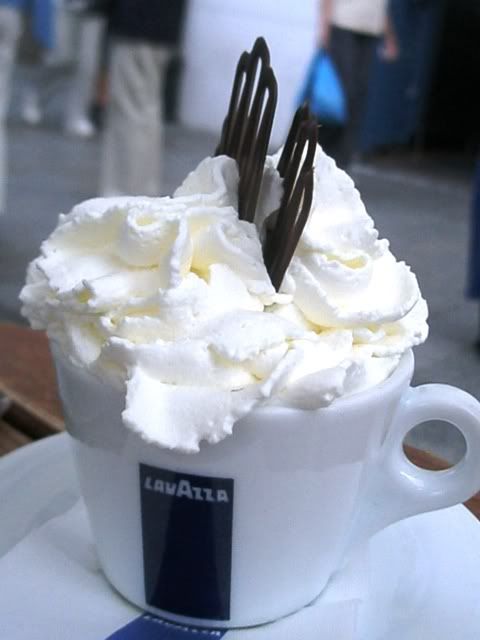 One thing good about Europe, it's so nice to sit in the cafes, sip coffee and eat yummy cakes like this. I guess it's all about the weather, if i were to do this here, i would probably be a mess of sweat.

Well, any of you manage to get to Cracow in Poland, do stop in this shop. They have a lot of desserts that make you go :P'''' and for those who like alcohol with their dessert, they have it hear.