Time to promote food near my housing area again! :) My family & i got a thing for Fish head restaurants. This one is situated near the main road on Jalan Kewajipan on the same row with Casabalanca restaurant. For the past 10 years staying here, i never really tried it once but once we did, we have been back a few times.
First time, i forgot my camera, second time i did not. Now, please note this place is packed during dinner hours, so come early or reserve. This was also the day i came back from
my lexis nexis hunt- so i was not willing to go to a place that was cramped and full of people, so my
parents suggested somewhere near where i could come back straight after dinner and ..yes.. koon. :) eat, sleep, eat, sleep- sure fat one. Hopefully not.

This place is supposed to serve pretty fresh fish, their main speciality is fish but they do serve chicken, pork from a range of set menus which you can choose from. What i like about this place is the servings is based on the number of people you have. I truly don't like chinese restaurants that simply give you a large serving not balancing it with the number of people. It's a true waste of food when that happens. Also note they don't have every possible type of fish but occasionally serve butterfish (ooh) and more difficult to find type of fish.
The greens are first up. Yau Mak ching chau. Not bad. Fresh and crunchy. T
his is dad
's favorite. Sometimes i like it with foo yee but with dad around , he aint a foo yee fan. So ching chau it is.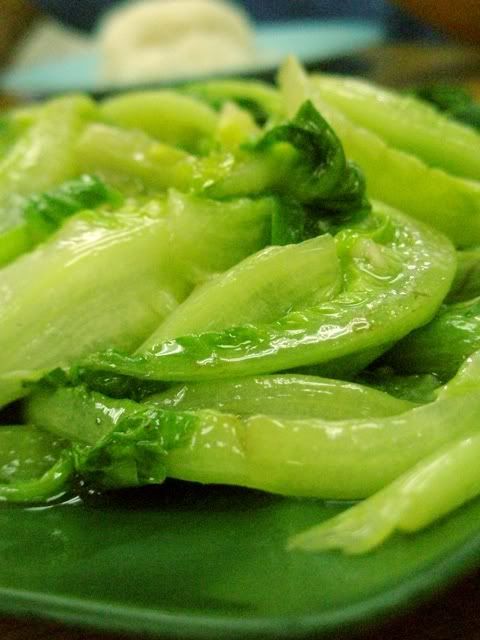 Yau Mak ching chau.
Pork obsession came back. I wanted XO ribs but dad seems bent on Yam and pork slices... Again.... Now, i don't think this place did it very well. The yam was hard, i like it soft and very much blended with the sauce. That is the key thing when making this dish. However, that did not stop us from walloping the pork. ( I don't think my family is a big believer in beta antigonist or whatever )
Yam and Pork slices
Claypot taufoo with local taufoo. We don't really like egg taufoo so we ordered the local one. Not bad... :) Saucy.. And full of vegetables. Paws up from everyone.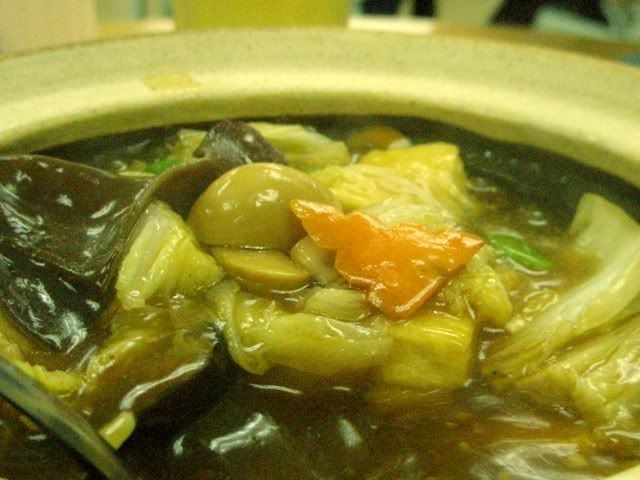 Claypot Taufoo


Ah...........finally a fish dish. Dad decided for no fish head but wanted steam fished. We settled for the tilapia cheong ching. Do you all see the brown cubes there? It's pork lard. This is the first time i have seen people steam fish with that. I flicked them away from the sauce ( sorry, a bit unhealthy for me ) and enjoyed the rest of the fish. The taste of the fish was quite fresh and no "earth" smell.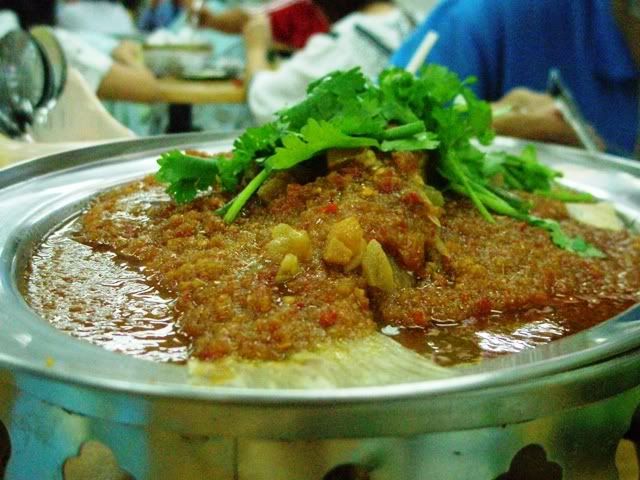 All in all, the bill came up to around RM60 for the 4 of us. Not bad ... reasonable for me.



Location:


Restaurant Kepala Ikan Segar
USJ 4 - Same row as casablanca restaurant and Apollo restaurant.