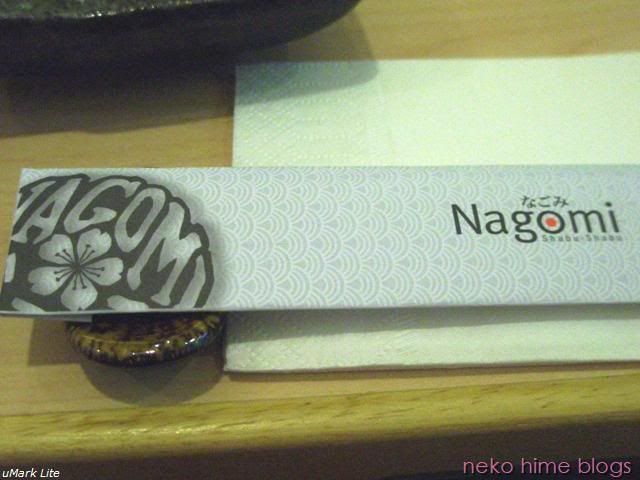 Ah.. shabu-shabu, japanese steamboat... i think. Same concept right, have pot, boiling broth, put veg, meat.. wah lah...meal. Hmm.. yeah.. some what.

There is this place in Jaya33 ( just opened ) that has Shabu s
habu. After our h
unt briefing, Walking Contradiction, MC and myself were hungry and we needed to plan our hu
nt...... after checking Oriental where the prices were o_O. Looked good but... o_O

So we settled for this shabu-shabu restaurant on the ground floor called Nagomi. Now it is a shop with a small door and i thought it was a small shop inside. But no, t
he small door is only a front.

The restaurant was pretty empty, so MC was... "why so empty one?" since w
e ar
e laz
y to drive out, we had to settle. The waitress was pretty helpful in suggesting options for us... but whe
n i looked at the price for one set... i was like o_O..... One Wagyu beef set was 99+ ... chicken set orsoe RM40+ double o_O.

Since Walking Contradiction stuffed herself before that with her remaining 1foot sandwich, we ordered the special set which is 2 chicken shabu-shabu. Comes with 1 veggie dis
h, 2 i
ce macha, 1 tray of sushi (with 5 items ) and comes with 2 rice bowls as well. On top of it
, we had salmon carpaccio and softshell crab roll. Enough to feed the masses.

So let's get straight to the pics... of food...

Once she finished mixing, she actually made small little balls of meat and proceeded to fish it into the hot pots in front of me and MC... The strips of meat, according to her... is supposed to be "swished" in the hot soup. being so finally sliced it is suppose to cook pretty ea
sily. I dunno man..i swished about a good 10 times. HEHEHE i like my meat cooked throughly.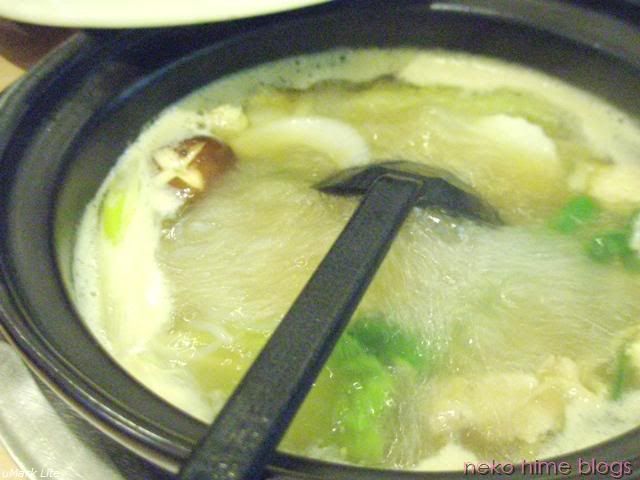 While my food bubbled away, time to attack the other stuff as well.