I think it is now a standard for me to become a substitute partner fo
r NY during dinners with the other couples such as LE & TC and CG & FF... *Sigh* He,

Not

wanting to
be the lamp-post for the other couple- he will drag me a long ( well sometimes - depends on the choice of food ) to such outings.... i knew it already, when he msn-ed me.... ...

NY:

Dinner on Wednesday?

Neko:

huh... what? where? with who?

NY:

So many qu
estions - vintry....
Neko:

............................
----- 5 MINUTES LATER---------

NY

: So how?

Neko

: ha?... with those 4 again ah?
NY:

Yes...

Neko

: <> OK LAH.

oiy.. once in a while ask someone else lah... my "saham" jatuh lah if seen too much with u *kakakaka*.
Kidding.... having dinner with NY and gang actually can be quite fun
at times... In fact, it sometimes turns out to be a who-eats-more competition ..... when the g
uys from the other pair meet up....
The other 4, are first timers to Vintry, had me and nick to suggest to them what to eat. One thing i don't really like about vintry is the smoke. You smell so bad after all that cigarette smell. For those who are non smokers- please note this place does not have a no smoking zone.
Our sort of stoned death, not english speaking waiter finally brought our
o
rders and it was dig in time. First up, the famous Caramalized Roast Pork. Yummy. Well done as usual. I wonder how they cook this? Now, TC is a bigger pork eater than NY. So a second helping was ordered. CG, getting married in October, was warned by wifey not to put on so much weight.... hmm
some last minute dieting might help *grinz*
We had the garlic mushroom but i didn't take any picts of that... Was in my last post.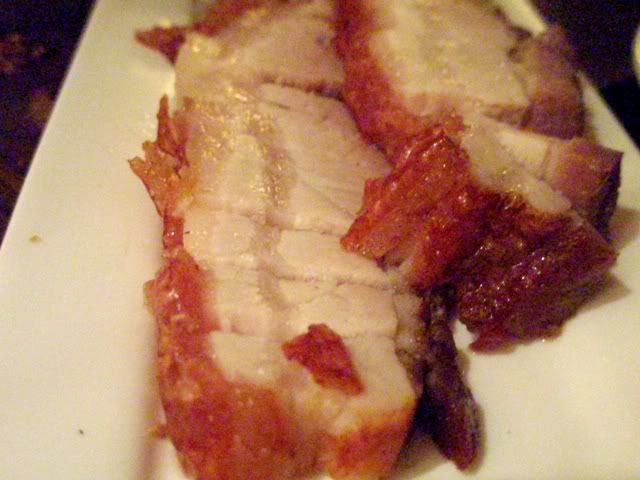 Plain Roast Pork

We ordered a plain set of roast pork - by the gram. I was a bit amazed when NY asked
for er.. Mustard sauce to go with the roast pork. Strange taste. Now, the roast pork today was not as good as the last time i was here. FF says that there were porky smell. I didn't get it in my piece but i too felt that it was not up as par as usual.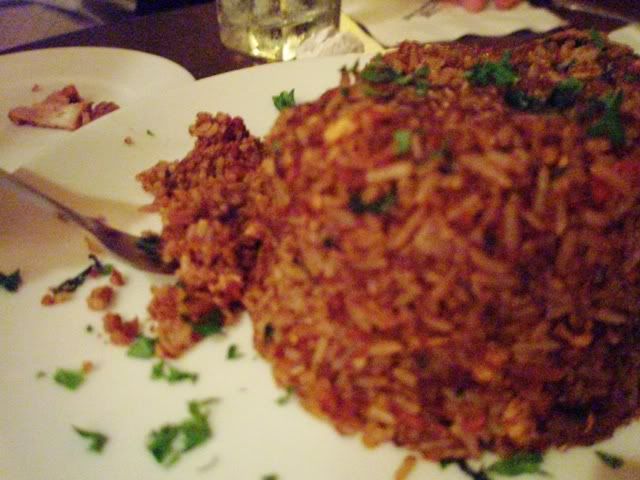 The Corn Beef fried rice


This is either a love it or hate it dish. I so far love this, corn beef fried with rice, thai style. The use of lemon grass is pretty strong in this dish but for those of you who love the smell of the refreshing lemon grass, you will like it. FF was not a fan of this but the rest of us, 'cept Choy ( who doesn't eat beef ) found this dish pretty good.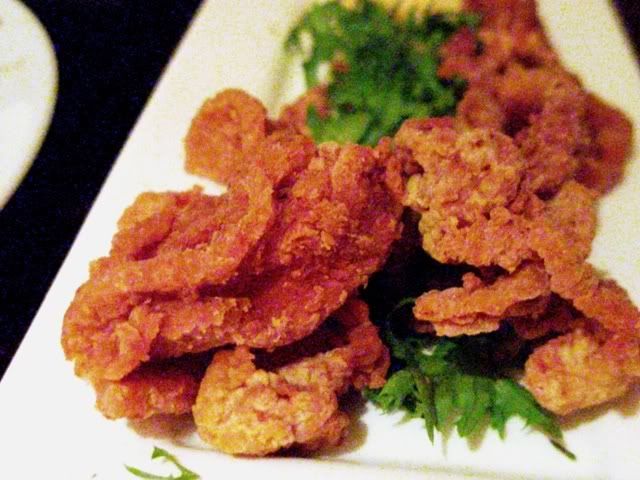 Fried Pork Strips with Sauce
My turn to find something i didn't like. It's also pork, fried, marinated with some spices that i cannot decipher. I found this a wee bit too hard for me. Others walloped it but I took small bites only. So so lah. Won't call this the second time around.

Some how the guys feel peckish still and decided to order more dishes. This time around, they were scouring the menu for non pork items and came up with................... so
tong.
... Yes, u
heard right, sotong. It looks good but because of my skin allergies- passed on seafoo
d that night. You can dip em in the chilli sauce provided. Seems good. but pity, they only gave 5 pieces for 6 persons.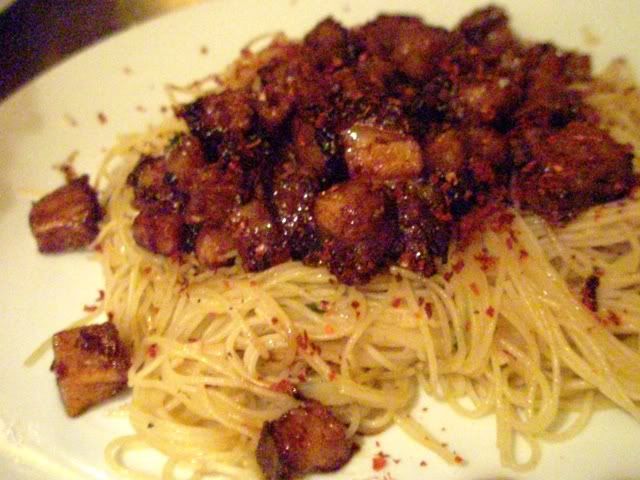 Angel Hair pasta with

Caramalised

Pork


Teriyaki Pork Burger- suprisingly not bad :)


Since i lost my hand phone that day, everyone indulged me by allowing .. ahem me to order dessert *muaks* So we had 2 shared among 6 of us. First up, creme caramel. Lovely....

This one, cannot remember the name but know it is vanilla ice-cream, covered with fresh hot expresso ( i think ). It's ice cream with a name that has a lot of 'f's.

I concluded after this session, i needed to be a vegetarian for 5 days. To clear the fat of the system, one must refrain from too much pork after that. Think i will only go back next year.

All porked out for the time being- neko


Vintry