I am in a super blogging mood today - because normally i don't have ti
me to blog on weekdays. Plus.. i am still obsessed with changing my template so i am busy scouring the internet.. argh.............. anyway... this is an Ipoh post about the food i had there.

I made a short trip back the week before and dad and mom were on this curry noodles craze. Hmm.. at 8:00am in the morning curry noodles just doesn't cut it for me. Since everyone was at church and my aunt's house was looking a bit old mother hubbard, i trooped along to the jalan bukit timah restaurant's. Good coffee is another thing i was loo
king for.

There is this one whole row of good food in Jalan Bukit Timah ( formerly known as leed's street). This road is famous for the good white coffee. I cant remember anywhere else that has good coffee except here. There is fried kuay teow, Chee cheong fun, cur
ry laksa, fish ball noodles, hor fun, the list goes on. Their standard structure is, the main "important" stall carries either Curry Laksa or Fish ball noodles. It's tough to find a shop that is good and has all the works in it..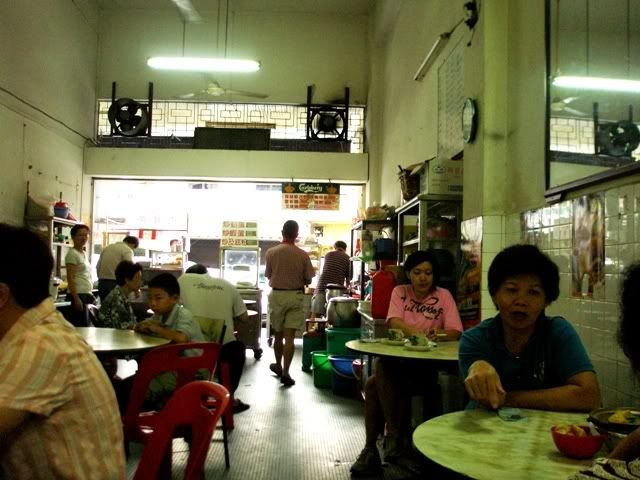 The shop we went to had this guy selling a variety of noodles, if my chinese serves me right, it was curry noodles ( of course ) , wan tan mee, hor fun etc... But next to his stall on the left was... Bak Kut Teh............ i was like ... ha??? BKT, as far as i know is not as popular as in Kl. mMmmmmm tempting but no.. too heavy for breakky.

The couple owning the noodles stall is mr and mrs snail. Yes. Speed is not of essence here. Since i had no idea what to eat, i followed dad to order my "type of noodles"



Uncle:

Lei oi me-ah ( what do you want?)


Neko:

Yau wan tan meen mah ( Do you have wan tan noodles? *blink*)
Uncle:

Yes but no wan tans. The wan tans is not ready yet. [Uncle, it's 8:30 AM How can you be not ready for the breakfast crowd ]


Neko:

Eh? ...........(5 second pause ) ok, ok, i take ( hungry already :( )

No sooner i sat down the crowd came rushing by the busloads.. the shop was full and mr and mrs snail was getting confused... The shop behind this, served good char kuei teow... so while looking and waiting, i could not help but drool...

Luckily the coffee came: (aahhhhhhhhhhhhhh).. greatfully sipped my hot white coffee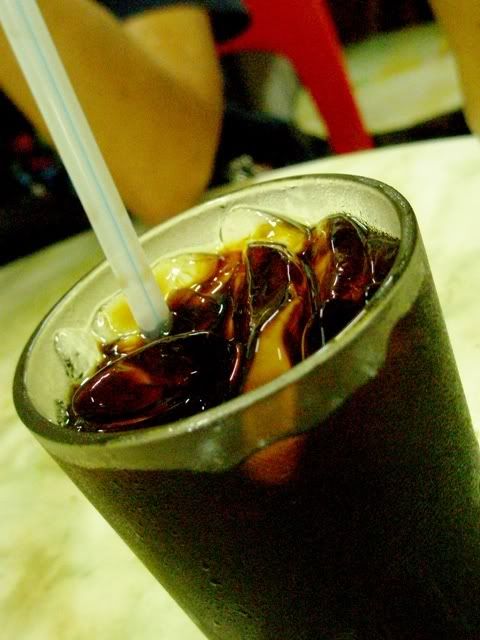 Cold version of the white coffee.


Mr and Mrs Snail will still mucking around with our order. After 1/2 nothing came. Neko Mom was already getting cheesed off. When cats are hungry, dun piss them off man.... Aiyo finally after reminding mr and mrs snail food came. This better be good leh..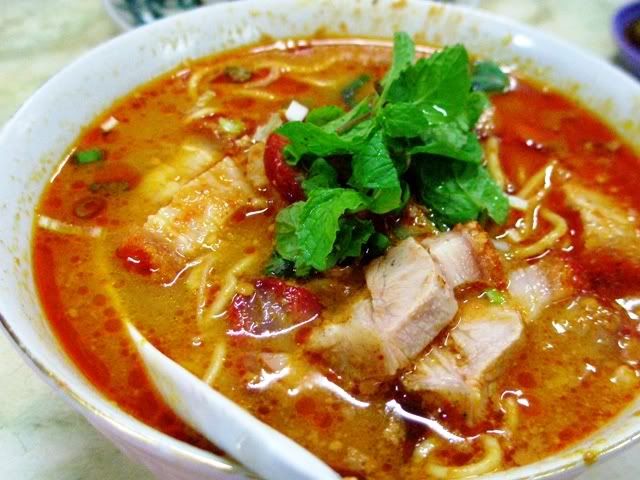 Ipoh Style Curry Noodles- complete with Siew Yoke, Char Siew and Cockles


Neko family verdict: Good! I took some sauce from LiL Bro and dumped into my noodles. Good, good.

I ordered wan tan noodles with no wan tans... This is good stuff :) The noodles are a bit small but hey! i have no kan siu allergy when i ate this! Char Siew was just nice - though cannot compare to meng kee one.