After the porking out session in the last post, heavy food was out of the question. When Tou-Chan suggested dinner at Fasta Pasta, i was like *what*green*?*...... But we finally as a family, mastered the art of ordering pasta @ Fasta Pasta.

My first experience @ fasta pasta was not in KL but in Adelaide. When my lil
' bro graduated - all of us made a trip to Adelaide. Our first night there, we had fasta pasta
there and experience the Aussie size food for small chinese stomachs. Needless to s
ay, that night, no one us wanted to so much stare at pasta in the face for a good 2 years.
Thank god for Asian and Aussie sizes! Fasta Pasta introduced Asian sizes somewhat last year so it makes eating for people like me easier. Plus my family finally opened up to the concept of food sharing - so we get to eat more things at one go.

One thing i like about fasta pasta besides good food is, the service is pretty g
ood. Friendly as well, waiter x saw me busy bring out my camera, he helped "pose" the soup as well. Now how's that for camera friendly places? Gets my vote as a good restaurant as well.

Luckily, seeing i was porked out from vintry, the family decided "seafood"
wa
s the theme for pasta choices. Since we were sharing, we had 2 pastas, one pizza and 1 soup. Pa
stas are all in Aussie sizes. Complimentary bread is also given with nice aussie butter :).

First up- soup. My all time favourite - mushroom soup. It's good. not the campbell soup variety. Hearty as well. See the nicely posed spoon? Waiter x helped pose it! The mush
room instead of being sliced, is blended as part of the soup. Good, i like porridge like soup :)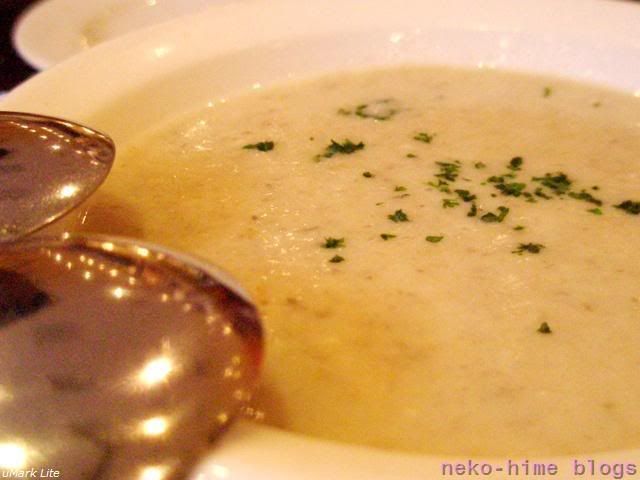 Mushroom Soup


All time family favourite -

Rimini

Pizza - made up of turkey ham and pin
eapple and cheeeese.. The not so posh name of this is called "Hawaiian" *grinz*. I prefer pizza with thin crust instead of thick - so this got my paws up as a good pizza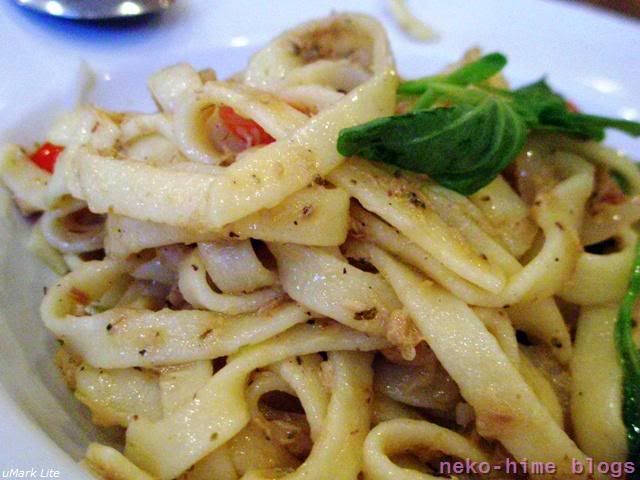 The men did not favor this but i thot this was nice.....it's tuna tossed with pasta. After porking out, this taste simply nice and healthy. Guys in family said ... taste like canned tuna... Really... sometimes - men's taste and women are truly not in the same wave length.

Ah, the next one is a hit with the men. Seafood Pasta. I kinda like it too but can't eat 1/2 the stuff in this plate. Dad keep giving me more pasta, seeing ( and he kinda forgot i dont take shellfish ). One thing is though, the mussel's given is a bit tough. Not as fresh or tender as the ones that you find in other places. Hey. since i didnt eat the seafood portion, am just commenting on these people's feedback!


Do note the prices are bit on the high side and the place fills up pretty fast. Do try this place for good wholesome Italian food with the aussie feel.

Other people who tried this place:




F

asta

P

asta
@ Ikano power center


Next to Ace Hardware- opposite Dome's