Well... what do you get when you put 4 hungry people toget
her in a car.... we naturally search for food. There are 2 fussy eaters in the car, one who
just eats, and one.. who has no idea what he wants. Now fussy eater 1 and the one-who-just-eats, have not eaten Satay babi before so, one has no preference to anything as a base. While fussy eater 2 wants to eat Shop X but then by the time we finished our challenge, Shop X was

CLOSED

.

Ok- Satay babi- seems to be extremely popular in Melaka. It's j
ust p
ork marinated in satay marinade, dipped in a peanut and pineapple mixture. We do have pork satay in KL as well but dunno why we said "Melaka", Melaka=pork satay. But Pork satay did originate from Malacca- according to wikipedia and did you know, it
is not really easy to find pork satay in KL?? hmm....
So ( a bit of side tracking ), since Shop X was closed, then we proceed to Shop Y.

Day 1 Satay Shop- Sun May Hiong
Sun May Hiong is located off Jonker Walk, in front of a pier and you can see this sign. Now... again side tracking, in this whole row of shops, only this guy is the foodie place. Along the same row is a bereavement care shop, a massage shop ( if i recall ) and then empty shops. So it is pretty hard not to miss this shop with such a big yellow sign on a q
uiet street.

Ah.... the smell of burnt meat on a rainy saturday makes a cat very happy.... The shop was already packed when we reached and this uncle was already busy burning away to feed the masses in the shop.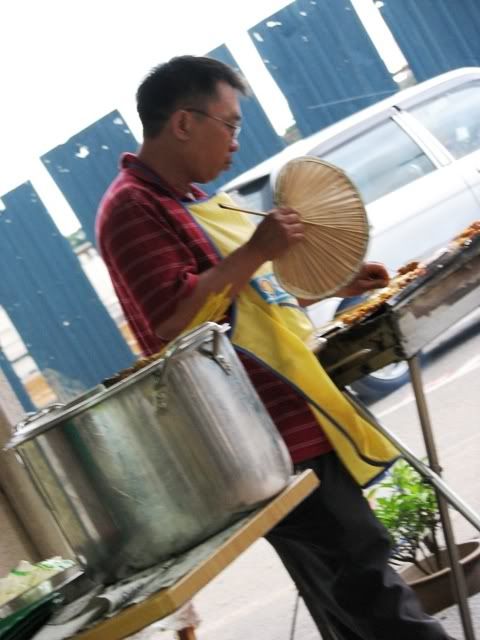 The concept of eating satay in melaka is this.

1) You sit down
2) They bring the supporting actors- nasi himpit, cucumber, onions and sauce
3) Then you dont order the number of sticks, they just start putting the cooked meat on your plates and count how many you have eate
n later.


Concept very new to me... (El-jakun). Well, here is a shot of the satay all nicely posed by Ero-Ero. Thank you ero-ero.
I grabbed a stick gingerly cos i saw all the pork fat sticking out on the stick.... and dipped into the pineapple/nuts sauce... And stuff the stick into my mouth... Mmmm... very nice, is satay but it is babi.. The pork is nicely marinated with onions, lemongrass, tumeric and tastes as if it has been well marinated- pass - no PORK SMELL. Only thing i dont really like is the pork fat bits which i keep taking out.
Now, sauce wise- i prefer the Kajang satay kind. Thick in peanuts and lesser on the pineapple. First time i tried the sauce, i was a bit apprehensive. Pineapple?? Peanut? It grows on you, this taste. After the next few bites, i am ok. Out of all the people in the team... i ate the MOST sauce. In SMH- they refill your sauce based on that big tub. The old lady serving us was heard mumbling "wah these few kl fella can really eat sauce leh".. [ aiyo, reputation spoiled]

Also something you need to note on Satay babi, compared to the size of kajang satay, satay babi in melaka is smaller portions and easier to get addicted to. It comes in flavor of pork liver, pork, pork intestines etc.. all pork. Naturally, i only like the pork meat and not it's offals.

How do i rate it Satay Babi @ Sun May Hiong a scale of 1-10 (being the best): 7.

So, how many did everyone eat:


Tifa

: 22 sticks


Ero-Ero

: 18 sticks


LTC:

20


Neko:

15???? Damn. My tummy is too small

Price- about 31.50 including drinks- Cheap...



How to get there?



Sun May Hiong Satay House, 135, Jalan Hang Jebat (Jonker St).
Opens :

11am - 6pm (8pm on Saturdays). Closes alternate Tuesdays.