I discovered a few things in Singapore. They are 1) i am a shopaholic 2) i am not the clubbing kind 3) ... i am too old to be clubbing :(....... Sigh.. Age catches up with you when
you join young 'uns out for a night. Possibly it is not my thing...
Well, anyway, that's why it's called a brunch post
.
The d
ay i hit Singapore, i accompanied my GF who is also my gracious host to a club named St James Powerhouse ne
ar VivoCity in Singapore. That went on till 3am and finally got to sleep @ 5 som
e
thing after a long chat. By the time we both woke up i was suffering from Coffee withdrawal sympto
ms, she from on
e too many drinks. :P .... my head was banging like bongo drums.. 9:00am +, Tifa started calling, both TT and myself still dead to the world. FF
smsed later.. "where are u all".... my reply "still sleeping".... many sms'es later, we decide to go to Cedele's for brunch/lunch. I was hungry and craving for C
offee!! ( Original plan was to go to Marmalade Pantry, since it was TT's b'day, and Cedele's look tempting from their website - we changed place )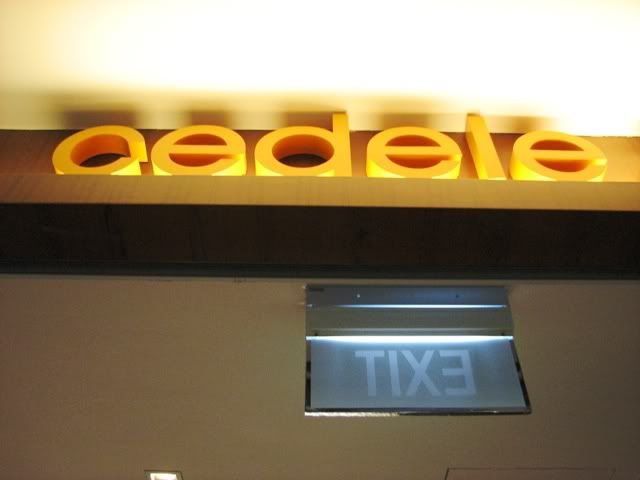 Cedele's, is located at Wheelock Place, above Borders. Take the escalator that goes straight up, look for the bright yellow sign and follow your nose to the smell of bacon. (It's next to another good japanese restaurant called San)

The warm and comforting counter front... at this point I was salivating from smelling the coffee already. TT quickly booked a place for 6 persons and i promptly ordered from the long menu.


Be decisive- there are lots of choices above in this tome.

I promptly ordered my mocha latte and ask for pronto delivery... ( My coffee withdrawal symptoms goes on a high if i don't receive my first drink by 11:00am- it was already 12:30pm :( ) imagine my joy when the below showed up: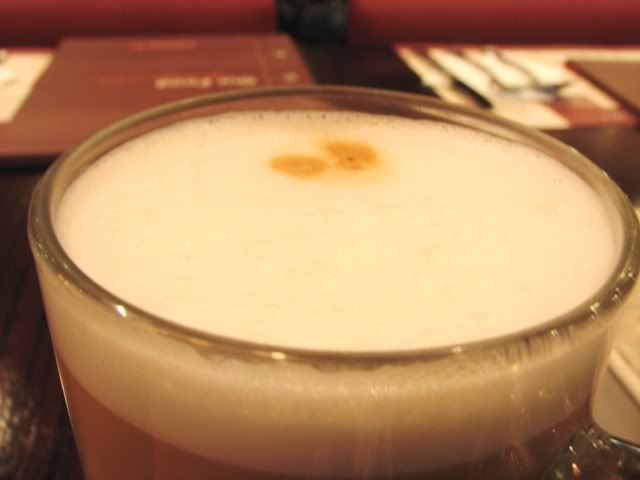 Aaaaaaaaahhhhhhhhhhh
Now, TT insisted on the Big Breakfast order from Cedele's. She was gushing about how tasty it was and i must not past it.. When she mentioned bacon, i say "OK!"
T
his i
s one dish you cannot eat on your own for those with small small tummy.


The Cedele's big breakfast consists of 2 scrambled eggs, a side salad, 2 pi
eces of warm bread, 3 pieces of bacon, sauteed button mushrooms and 2 pork sausages. One word... "heaven". I love the bacon (naturally). Now i am not normally a fan of english styled scrambled eggs, always was the fan of the malaysian version but this was nice. Though a bit wet, the eggs did have a taste i could not resist. The mushrooms were tasty. Sauteed in ga
rlic with olive oil i believe, i could not stop picking this. Only qualm i have about this entire dish i
s the sausages were a bit too oily for me. ( What?? after all that bacon and sauteed mushroom??)

Note

: Big Breakfast is served all day long

Please note that at this point, it was only TT and me polishing off this dish. FF, hubby, Tifa and her small bf were lost and late so we ordered first... TT was d
ying for them to come so she can order their house specials.

Tifa and her small BF ( batman nephew ) strolled in next. After setting her nephew up and ensuring his bladder was emptied, she was next to order. She was also starving and T
T insisted they ordered "pancakes". I wanted apple but then the wild blueb
erry was very tempting, guess what... we ordered both! It comes with a serving of either bacon ( yes! ) or sausage.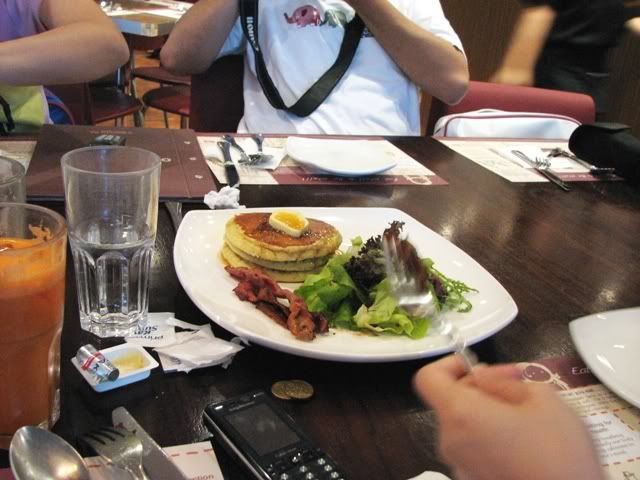 Apple Cinnamon Pancake with Bacon

Notice at this point it is getting harder and harder to take photographers because the other 2 arrived and even after the 1st breakfast they were getting hungry.. We practice the hobbit habit of having "Second Breakfasts"...

It was Tifa's turn to "tim" someone to order something she likes, since we forced pancake on here. So CG had to order the ham and cheese sandwhich. Ok... it is very very big. Everyone's eyes popped when this arrived. CG quickly said- "YOU ALL ARE SHARING WITH ME!" TT already waived the white flag at us at this point.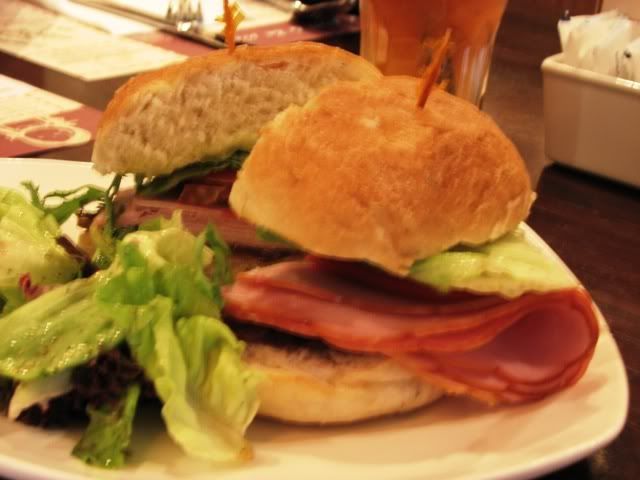 This was not so much my favorite because i didn't really like cheese to begin with.

Final dish- something different, FF ordered Salmon Alfredo pasta in linguine. Mmmm, i like this dish. Normally i don't go for Alfredo because of the cream, but because we shared it amongst 5 people, Tifa's little nephew is not counted as an Adult, ... it was not bad.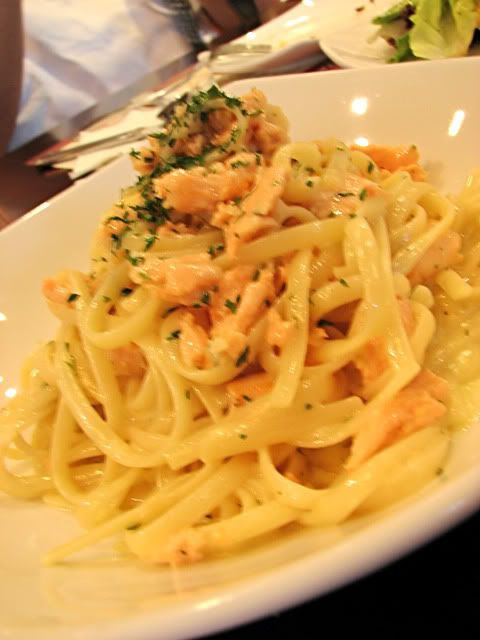 All in all, with drinks and all, this set us back about S108, which is a bit pricey for breakkie and lunch but then again with food so good, it's hard not to say no...


Wheelock Place
501 Orchard Road #03-14
Wheelock Place
Singapore 238880
Tel: (65) 6732 8520
Fax: (65) 6732 8526
Opening hours
Mon - Thu: 11:00am to 10:00pm
Fri: 11:00am to 11:00pm
Sat: 10:00am to 11:00pm
Sun: 10:00am to 10:00pm